Behind the scenes of the Tandem and Beany partnership
Beany is your clever online dedicated accountant and Tandem provides you with a virtual CFO solution.
In the last few years, amidst the challenges of a global pandemic, there has been a rise in the number of women entrepreneurs. As of June 2020, Australia had over 2.3 million small businesses and over 50,000 medium size businesses, with more than a third of these businesses being run by women. 
Given most businesses fail within their first three years, the factors that determine which businesses succeed are critically important to address. These factors include market fit, access to capital, ability to build the right team, and having a community of people who provide practical support and care as the business pursues growth and expansion. 
The partnership between Tandem and Beany was initiated through a conversation through SheEO where these two women-led ventures discovered their shared commitment to financial solutions for entrepreneurs. They bonded over a common question,. "Where were you when we were trying to do this?"
Surrounded by ambitious founders committed to creating change, they stepped up to support ventures by helping to align their vision with financial strategies, and thereby realise their goals. Their mutual dedication to innovation and collaboration made this partnership feel just right. 
Tandem has supported over 150 global ventures to thrive, build their financial forecasts, and access more than $15M in capital.  Since our founder joined the SheEO community as an activator in 2016, Tandem has worked with many SheEO ventures across Canada, US, and UK, Aisle, Alinker, Gotcare, and Twenty One Toys. With their expansion to Australia, Tandem can extend their community of leaders who view the SDGs as a to-do list for building the ventures needed in global communities. 
Beany has been supporting over 2000 ventures through an online accounting service in New Zealand since it was a SheEO venture finalist in 2018. A Beany accountant is empathetic and wants to make a difference.
Tandem and Beany came together in November 2021 for this exciting partnership as they both entered the Australian market.  As part of the SheEO community, Tandem and Beany are a part of a radically generous community supporting women and non-binary people with 1 million Activators helping women working on the World's To-Do List. 
With a shared commitment to building better financial literacy for Entrepreneurs, this partnership is an example of what magic can happen when you connect with others, show up for your community, and make it count.
Here's to building better businesses, together.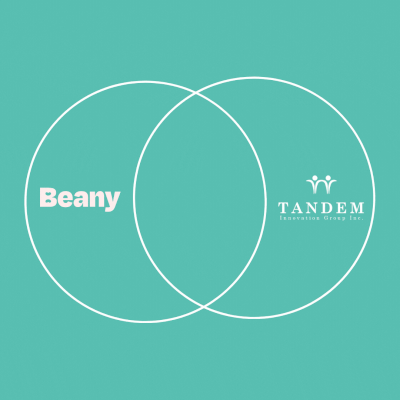 "I've been a big fan of Sue De Bievre and her ability to make financial concepts accessible. We met during COVID, and through roundtable zoom sessions amongst SheEO Ventures where we were sharing and learning from each other.  And one of the places we intersected was how to make financial literacy accessible.  I am so excited and impressed to see Beany grow and reach new entrepreneurial audiences beyond New Zealand.  And could not think of a better organization to join forces with as we both bring our unique offerings to Australia to further convene expertise and capital beyond our home countries to build better businesses together."
 – Tania Lo, Founder, Tandem Innovation Group 
"We are super excited to work with Tandem IG, we're a great fit in terms of values and have strong alignment in our client-focused service delivery.  It is also great to be supporting a SheEO company, and to be forming this partnership ahead of our proposed expansion into Canada."
– Sue De Bievre, Founder, Beany